THE RENEW CAPITAL TEAM
A gender-balanced, diverse investment team across Africa
Renew Capital brings together professional, localized and values-driven teams everywhere we work. We are a team of advocates of African private-sector opportunity and specialists in sourcing and facilitating investments and investor experiences.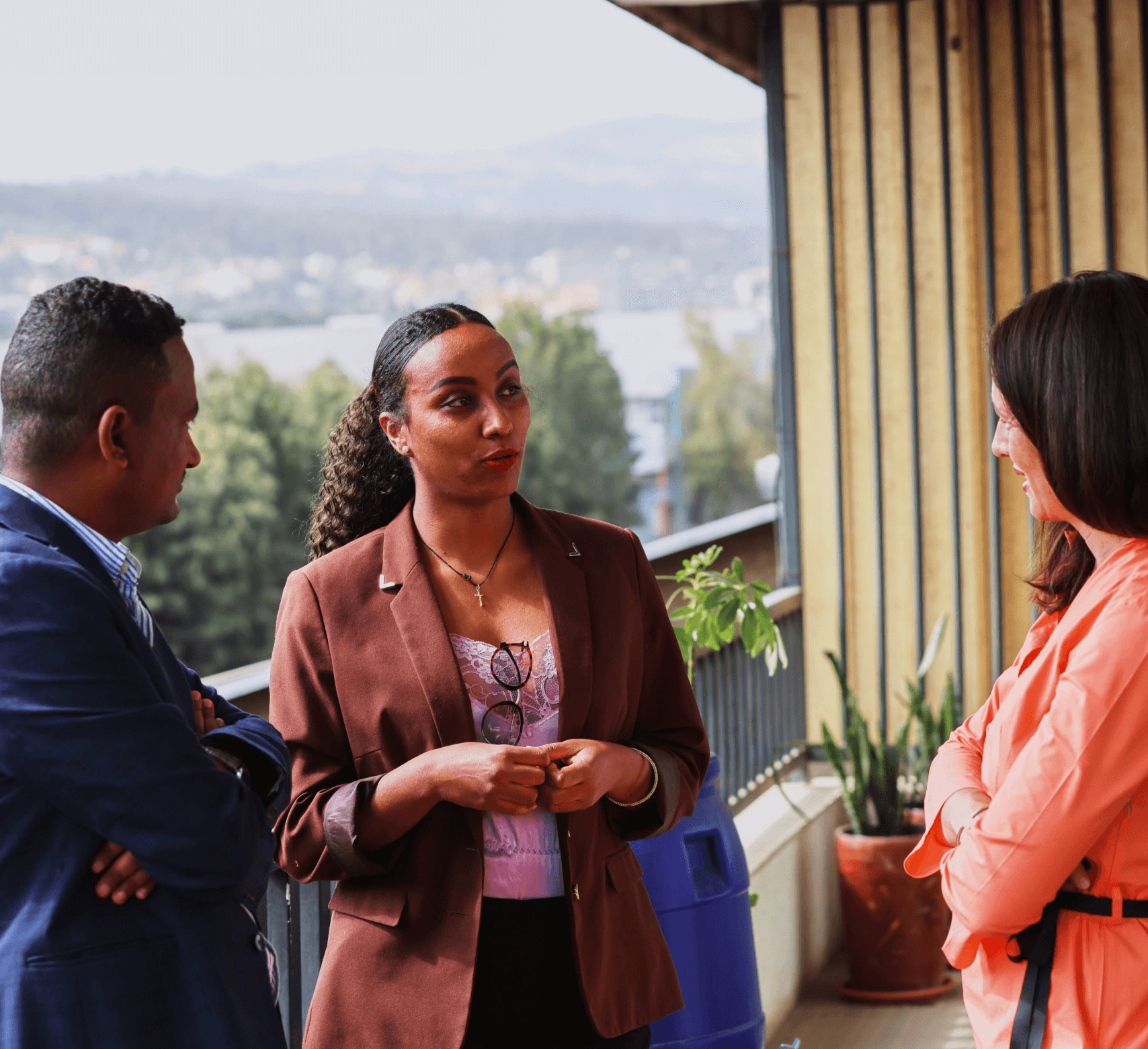 Renew Capital Staff
Our staff are located across North America and in countries throughout Africa where we have Renew Capital Exchange hubs.
Staff are employees or contractors of RENEW LLC and its affiliates.
Dagmawit Shiferaw

SENIOR INVESTMENT MANAGER - ETHIOPIA

Tsegamlak Solomon

SENIOR LEGAL COUNSEL - ETHIOPIA

Filseta Asrat

PROJECT MANAGER - ETHIOPIA

Teddy Fantahun

OFFICE MANAGER - ETHIOPIA

Tamiru Belayneh

FINANCE BUSINESS PARTNER, SHARED GROWTH SERVICES

Samrawit Geremew

SENIOR PROJECT MANAGER - ETHIOPIA

Sintayehu Abebe

LEGAL ASSISTANT, CHIGIGN

Diana Njuguna

SENIOR INVESTMENT MANAGER - UGANDA

Lincoln Ford Linguyeneza

LEGAL COUNSEL - RWANDA

Shail Bhandari, CA

ACCOUNTING MANAGER

Philemon Kajewole

SENIOR INVESTMENT ANALYST

JC Oelofse

HEAD OF SHARED GROWTH SERVICES

Pranay Shrivastava

GROUP CFO, SHARED GROWTH SERVICES

Kirsten Newman

GENERAL COUNSEL

Laura Davis

MANAGING PARTNER

Andrew Larsen

SENIOR CONSULTANT, PRIVATE SECTOR PROJECTS

Mariah Grubb

SENIOR CONSULTANT - PRIVATE SECTOR DEVELOPMENT PROJECTS

Foluke (Kay) Adebayo

FINANCE AND ADMINISTRATION ASSOCIATE

Esther Mwikali

INVESTMENT AND PROJECT MANAGER, KENYA

Raisa Chowdhury

SENIOR PROJECT CONSULTANT AND M&E LEAD

Vinayak Narula

CHIEF SALES AND MARKETING OFFICER, SHARED GROWTH SERVICES

Hermela Tamire

JUNIOR PROJECT COORDINATOR

Solomon Bekalu

JUNIOR INVESTMENT ANALYST

Nuhili Girma

JUNIOR INVESTMENT ANALYST

Julienne Gage

DIRECTOR OF MARKETING AND COMMUNICATIONS

Chukwudi "Chudi" Ofili

DIRECTOR OF INVESTMENT MANAGEMENT AND EAST AFRICA REGIONAL COUNSEL

Margaret Mandeya

MARKETING AND COMMUNICATIONS ASSOCIATE

Rene Sebera

OPERATIONS AND FINANCE MANAGER - RWANDA
Renew Capital Advisors
Renew Capital's advisors are a committed group of professionals with deep and diverse knowledge sets that bring value to our work and investments.
Ambassador John A. Simon

Advisor